Zimbabwe confirm tour to Pakistan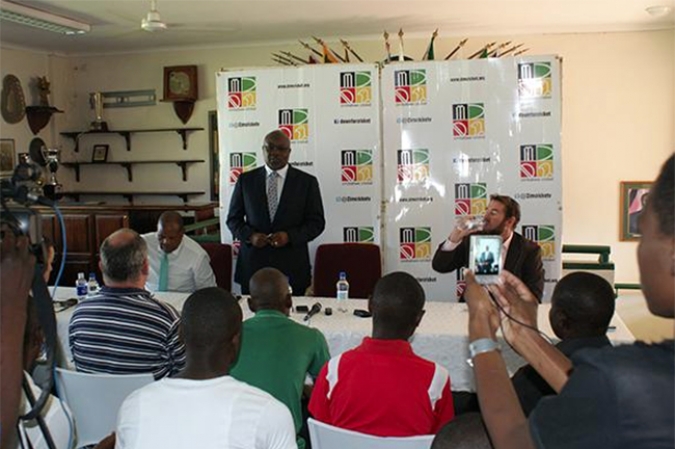 Zimbabwe confirm tour to Pakistan
LAHORE, April 30, 2015: The Pakistan Cricket Board has after confirmation of the tour from Zimbabwe Cricket announced the schedule of a five–match series here at Lahore.
An official of the PCB said that Pakistan is all set to host Zimbabwe, the first ICC full member nation to visit Pakistan since March 2009 terrorist attack on Sri Lankan team bus in Lahore, to play two T20 Internationals and three One-day matches.
The team will arrive on May 19 and first they will play T20 matches from May 22 and then the ODIs, he maintained.
The PCB and Cricket Zimbabwe have signed the MoU, the itinerary has been agreed upon and Cricket Zimbabwe has duly intimated the ICC of its intent to visit Pakistan between May 19 and June 1, he added.
"I am grateful to my counterpart in Cricket Zimbabwe, Wilson Manase, for acceding to our request of sending a full side on a tour to Pakistan.
"This would be an auspicious moment for Pakistan cricket and I am positive that it would open doors of international cricket in Pakistan. Kenya have already been here for five matches against Pakistan 'A' and I am indeed confident that Zimbabwe's incident-free tour shall be the harbinger of more and more associate and full member nations visiting us in the months and years to come", said PCB Chairman Shaharyar Mohammad Khan.
The Cricket Zimbabwe's security team shall come over to Lahore – the venue of all the five games being the Gaddafi Stadium here – on May 4 2015 with a mandate to review just the security arrangements put in place by the PCB with the full backing and support of the Punjab government and various provincial and federal law enforcement agencies.
"We vigorously tried to convince Cricket Zimbabwe to split the matches between Lahore and Karachi but the visiting team's members expressed concern on extensive travelling, and their request had to be accommodated", said a PCB spokesman.
Chairman PCB on Thursday met Chief Secretary and explained the tour and has promised complete support. "The issues came under discussion were security, accommodation, crowd control etc. There were concerns of not allowing public to the matches but it was later decided to allow them tp watch the matches because without them the series would be dull," he added.
"I also apprised him about the arrangements during the Kenya team visit. They returned home satisfactory. But Zimbabwe tour is different from Kenya series. One is that they are a full member Test playing nation and the second that they are better ranked.
"If this tour would be a success, it would be good as regards to investment, entrepreneurship and would show that no such problems are here that would be damaging," he said.
He said that doors of foreign teams to Pakistan are opening as during the Punjab Festival which is also going to be held will also feature several international teams.
"The Zimbabwe tour is of great significance, the reason being that several VIPs from around the cricket playing nations are also being invited to see the matches here. We are inviting all the members from Australia, New Zealand to the West Indies and also the regional boards of India, Sri Lanka, Bangladesh are also being called. We hope that if not all some of them will surely come during the Zimbabwe tour," he maintained.
"There will be a great VIP movement at the Gaddafi Stadium and PCB will do its best to entertain them, providing them proper security. With that they will come to know about the actual situation here," he added.
Shaharyar further said that International Cricket Council will also help Pakistan in the revival of cricket here. "In the last meeting there was discussion to revive the task force established in 2000 to help out Pakistan.
"I am also writing a letter to the task force chairman with various suggestions for their help, which they have promised," said Shaharyar.
Shaharyar also made it clear that PCB is only playing the match fee etc to the Zimbabwe team for the tour, which is now confirmed.
Chairman and CEO Cricket Zimbabwe confirmed the series in a Press Conference in Harare, Zimbabwe, saying: "I can confirm that Zimbabwe will visit Pakistan in May. We had a duty to ensure the parents of the players; the players and government are on board before announcing the tour. We have taken cognizance of all the factors for us to arrive at this decision, so let's not be alarmist about the situation in Pakistan," said Wilson Manase, Chairman Zimbabwe Cricket in a press conference in Harare.
The CEO Cricket Zimbabwe Alistair Campbell said: "We are touring Pakistan as a measure of establishing bilateral relations between us and them; they [Pakistan] will also come to Zimbabwe in August."
Shaharyar said that there will be tickets for the Zimbabwe matches of nominal price and will be easily available for the general public. "Even IG police asked us to arrange shades for public with easy excess to the stadium."
On Shahid Afridi, Shaharyar said that he has already made it clear that he will be given a proper send off once they call it a day. "We have planned an exhibition match for him as he has a name in world cricket."
"There was a clear understanding that he will be retiring after the 2016 World T20I."
The tour itinerary, all matches at Gaddafi Stadium, Lahore:
May 19: Team Zimbabwe arrive
May 22: First T20I
May 24: Second T20I
May 26: First ODI
May 29: Second ODI
May 31: Third ODI
June 01: Team Zimbabwe departs
CopyRight 2015-2020 Kartain Technology CO.,LTD
Office Addrsss:#3RD BUILDING HONGCHONG INDUSTRIAL DISTRICT HONGXING SONGGANG TOWN BAOAN,SHENZHEN,GUANGDONG,CHINA-518104
Zip code:518104
Tel:15814406156
Website: www.kartain.com,www.kartain-tech.com
More contact infomation pls view "Contact US"